In the previous topic we discussed preloaded apps which are apps that come pre-installed on a tablet. We also mentioned that there are millions and millions of apps that are available to download for things such as health and fitness, finances, games, shopping, and many more. These apps are ones that you need to download on to your device and this is where the Google Play store comes in!

The Google Play Store icon is a multi-colored, sideways triangle as shown to the left.
---
Free vs. Paid Apps
Another important aspect to understand about the app store is the difference in between free vs. paid apps. With millions of apps available on the Play Store, some are free while others need to be purchased.
When you are downloading your app, the Play Store will show whether the app can be downloaded for free or if there is a price attached to it.
Free Apps and Paid Apps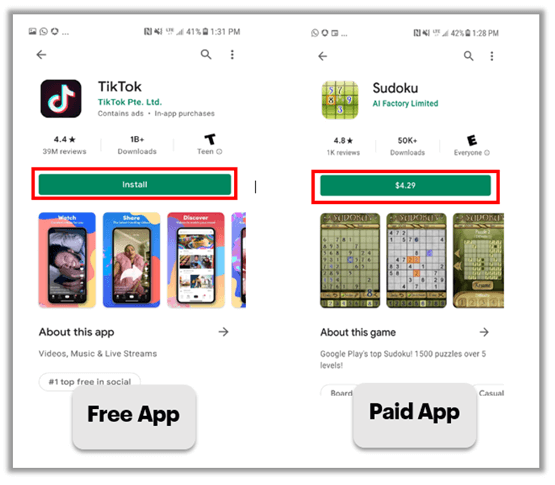 [word_balloon id="mystery_men" size="M" position="R" name_position="under_avatar" radius="true" avatar_hide="true" name="" balloon="tail" balloon_shadow="true" bg_color="#0046be"]
Before you decide to download or purchase an app, spend some time looking through what is available. There are many apps with similar functionalities!
[/word_balloon]