An iPad is a very popular, easy to use touchscreen tablet created by the company Apple. It is portable with a rechargeable battery much like a smartphone, only larger. Unlike a smartphone, you cannot make phone calls using the iPad but there are many, many other things that the iPad can do!
There are different iPad models that have been released throughout the years, ranging in screen sizes from the iPad mini (7.9 inches) to the iPad (10.2 inches) to the largest iPad, the iPad Pro (12.9 inches). The functionalities of these devices are the same no matter what size you have.
What can you do with an iPad?
Watch movies/videos
Video chat with loved ones
Browse the internet
Play games
Read books
Send messages and emails
Take photos
Listen to music
Let's look at the physical device
As you may have noticed upon taking the iPad out of the box, there are a few buttons around the outside of the screen. It is important to understand what these buttons are for and how to use them to use your iPad effectively.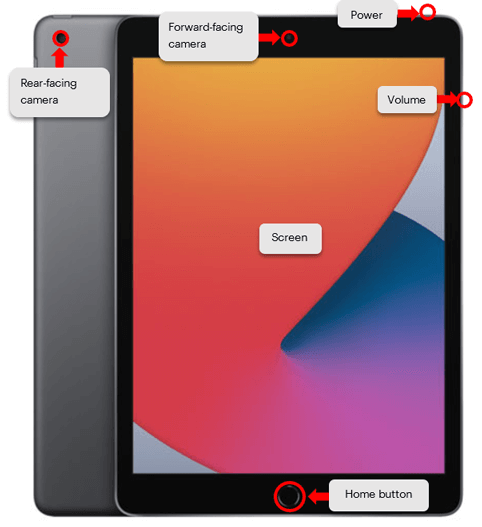 ---
Key Buttons: Functions
Power button: button located on the top of the iPad that turns the device on and off. The power button can be used to turn off and on the iPad by lightly pressing the button.
Volume Buttons: buttons on the side of the iPad that allow the users to turn the volume up or down when watching videos or listening to music
Camera: the iPad has a front facing camera located on the top center of the screen and a rear facing camera located on the back of the iPad in the left-hand corner
Please Note: not all models of iPads have a home button. Instead you may need to swipe up from the bottom of the screen. This works similarly to pressing the home button. See a demonstration of this gesture in the video.
Home Button: small circular button on the bottom of the iPad that is used to control the device, outside of the onscreen controls.
Speaker: used to play sounds from the tablet. Some tablets may have one speaker on the bottom edge of the screen or they may have multiple speakers located in various areas.
Charging Port: located in the center on the bottom edge of the iPad. This is where the charging cable is plugged into to recharge the iPad's battery.
---
How you restart your device depends on whether or not the device has a home button.
If your device has a home button: Press and hold on the power button and the home button at the same time, until the Apple logo appears on a black screen, then let go of the buttons.
If your device does not have a home button: Press and hold either the volume up or volume down button and the top button until the power off slider appears.